This summer, I had the pleasure of attending the 2023 Association Française de Comptabilité (AFC) conference in Lyon, France. My schedule was quite packed: I chaired a research session on diversity, presented two research papers on gender inequalities in the accountancy profession, discussed a paper, and participated in a panel discussion of the working group on diversity in accounting research.
The panel was a first in the history of the AFC: so far, there's never been a working group on diversity. It took the initiative and efforts of four academics, Alessandro Ghio (Université Laval, Canada), Sarah Maire (IESEG, France), Felana Rabekolo (Université de Toulon, France) and Juliette Senn (Montpellier Business School, France) to get the working group off the ground. The working group now has a permanent home at the website of the AFC, here.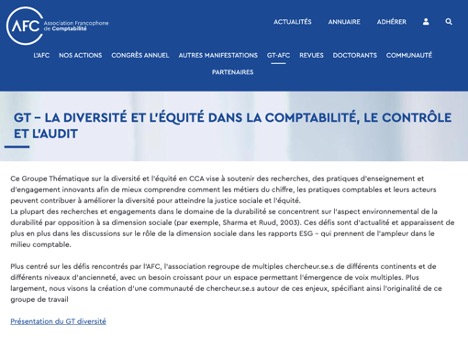 The research session on diversity that I chaired was another first in the history of the AFC: so far, there's never been a session on diversity research at any of the annual meetings of the AFC, which have been running for 43 years since 1980. And it's high time diversity is discussed and researched because we need to learn so much more about it. What does diversity mean? What does it need for flourishing? How is it experienced? What happens when there is no or not enough diversity?
I was happy that the panel discussion and research session on diversity were well attended and involved lively discussions, showing that researchers are interested in diversity and want to do research that deals with diversity.
In the panel discussion on diversity, I was asked to talk about what I see as the main challenges facing diversity research in accounting. Three areas of challenge stood out to me:
Who is doing diversity research?
What is being researched in diversity research?
How is diversity research being done?
In the next weeks, I will be posting my thoughts on each of these three areas here; they are grounded in what I said during the panel discussion on diversity.
Please stay tuned!
Photo credits: Alessandro Ghio, Sarah Maire